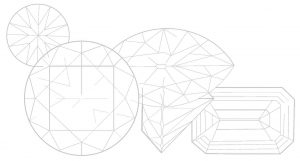 The term" Appraiser" as used herein, except as otherwise specifically stated, shall include all Steven A. Knight Jewellery Judge® Canada Appraisers.
The Appraiser must conducts themselves in a professional manner and perform competently at all times.
The Appraiser should always strive to maintain and improve professional standards in the jewellery appraisal field.
The Appraiser should help to build and sustain a public image and awareness that the profession is treating all parties fairly and equally.
The Appraiser should recognize his or her responsibilities to assist the public, the profession, all parties having an interest in the property being appraised, and his or her employer.
The Appraiser should have all pertinent facts relative to the item being appraised before arriving at a decision as to value.
A formal appraisal of jewellery should be a thorough analysis and interpretation of all factors affecting its value. The Appraiser should be unwilling to assign a value until all aspects relating to a specific item have been evaluated.
The Appraiser should be cognizant of all State and Federal laws which may be applicable to the appraisal which he or she is considering.
The Appraiser should maintain his or her professional competency in the jewellery appraisal field through continuous educational study and shall keep himself or herself informed as to all matters involving or affecting jewellery values on both local and national levels, and market conditions.
The Appraiser's employment or fee must not be contingent upon a predetermined value or upon amount of valuation reported.
The title "Designated Appraiser" denotes competence and high integrity derived from following a high standard of moral conduct in his or her field. Regardless of instructions from clients or monetary inducement there is no justification for advocacy for the clients interests or the accommodation of Appraiser's own interests, or deviation from this Code of Professional Ethics.
Although an appraiser may express an informal or preliminary opinion as to the value of an item, he or she shall not do so until all pertinent facts have been given due consideration.
All Jewellery Judge appraisals or Certificates of Value shall be in writing and shall be signed by the Appraiser. Jewellery Judge appraisals include the following as a minimum:

Date of Valuation
A description of the items being appraised.
A statement of the unbiased and objective conclusions of dollar value reached, together with any applicable qualifications or limitations on the conclusions.
A statement to the effect that the Appraiser has personally examined the items that are the subject of this report.
A statement to the effect that the Appraiser has personally examined the items that are the subject of this report.
A statement as to the assumptions and conditions to the appraisal, if any, and to the conclusions reached.
For a Letter or Certificate of Value, a member must maintain a file on the subject item or items being appraised and pertinent data which he arrived at a conclusion of value.
All Appraisers must affix their particular designation to formal appraisals.